Crashhopper
When Ben was trying to turn into another alien while being piled on Animo's army of mutated ants he was able to transform into a new alien that proved to be very used in a fight. This new alien's name is Crashhopper.
Species and Home planet: Crashhopper's species is unknown and his home planet for which he comes from is unknown. No known images of planet.
Personality: The thing about Crashhopper's personality is that he always seems to be eager when he is fighting against villians and even sometimes, he gets very excited. He is one to dive head first into a situation without much consideration. He can also be just a little bit cocky as shown in the episode, Hot Stretch.
Description (Omniverse): Crashhopper can be described as a insect humanoid that is shown to resemble a mix of a grasshopper and a praying mantis with some significantly large three-jointed hind limbs. He has some green film that is conected to the tibia and tarsus of his legs joints leg joints and his legs similar to both Jetray's and Stinkfly's wings. Crashhopper's green color scheme is shown to be the exact same color scheme as Stinkfly's and he has a large green horn on his head. He also has two smaller horns on the sides of his head where his eyes are placed. Each of these horns have three tiny spikes behind them. There are also three spikes on each forearm and the back of both tarsi on his legs. He has two sharp fingers and a thumb on each hand and two light-colored claw-like toes on his feet along with one on the back. His chin is quite small with two lines. Under his armpits are gill-like structures. His segmented neck extends from a green collar that is fused with the torso. His suit represents green overalls with three black stripes and a green tip. He wears green overalls with black strips. There's also a green stripe on his stomach has a large green hexagonal patch also the new Omnitrix symbol is located. See image below: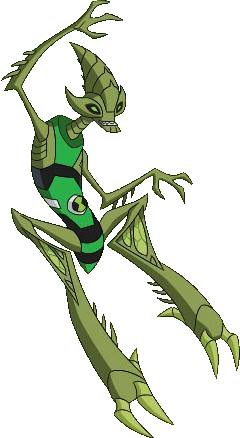 Special abilities: Crashhopper's first ability comes from his relatively long and muscular legs, which he uses to be able to jump at extremely long distances, leaving a big shock wave behind him. The shock wave that Crashhopper creates from jumping is shown to be strong enough to literally crack concrete and even push through a large number of giant mutated ants that were piled on top of him as seen in the episode It Was Them. He even did the same thing to the Muroids on Rooks home world Ravana. Crashhopper's second ability is his head which has a very hard and powerful horn-like skull which he can use as a battering ram. Crashhopper's third ability is his enhanced strength which appears to be strong enough to lift and throw a Muroid in the episode, Bros In Space. In the episode The Frogs Of War: Part 1, it's shown that Crashhopper's enhanced strength was also strong enough to bounce Emperor Milleous around in his ship while jumping. Crashhopper's fourth ability is that with his legs he can kick with considerable force, which makes them offensive weapons when he is in close-quarters. Crashhopper's final ability is the claws on his arms and legs which he can use to dig into hard surfaces. These claws also allow him to scale walls of buildings and other tall structures. See images below: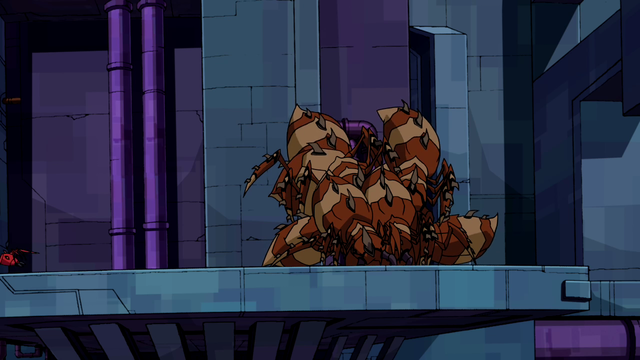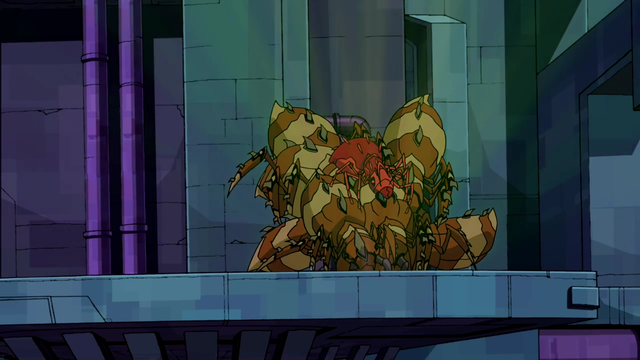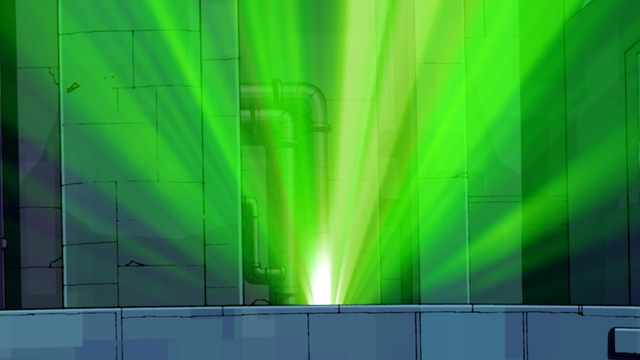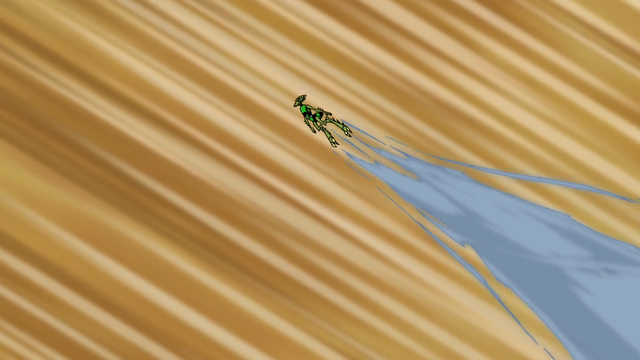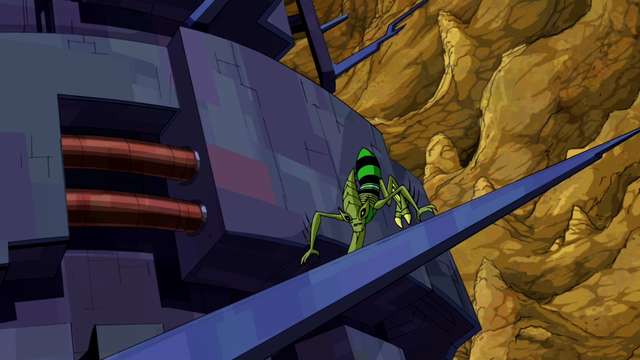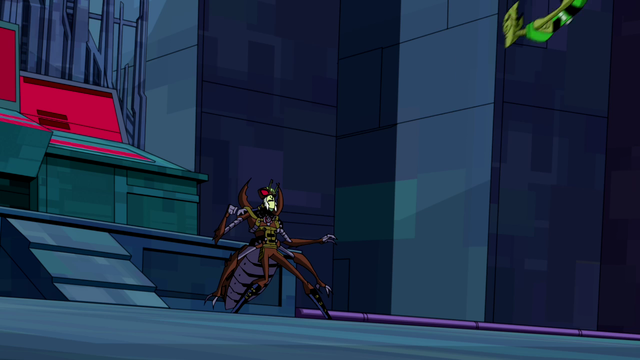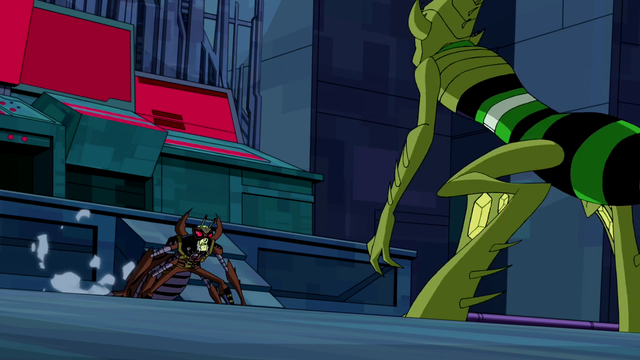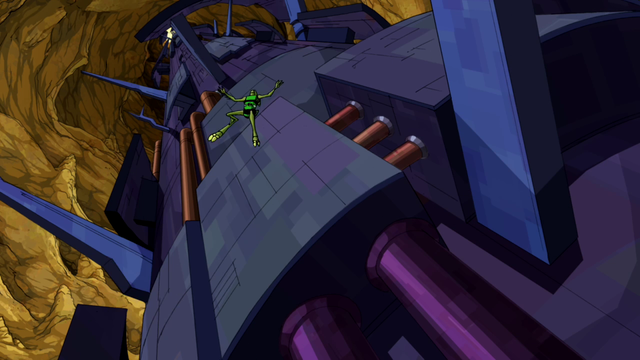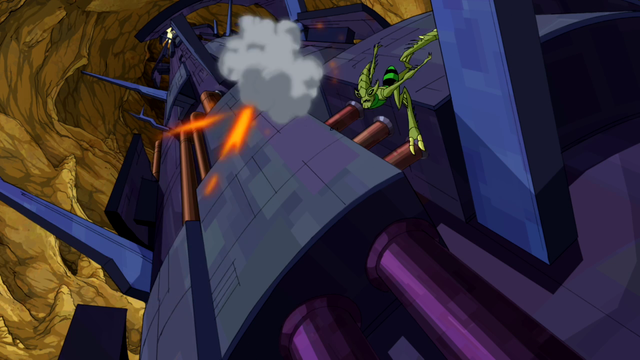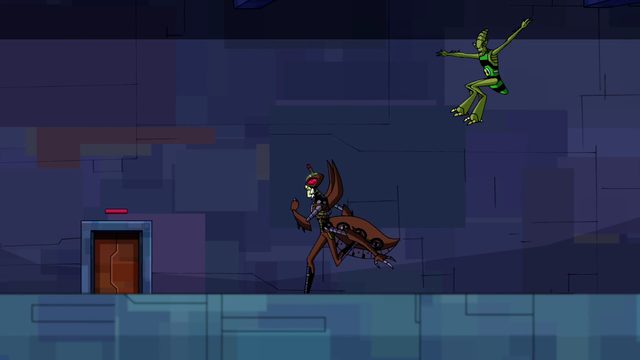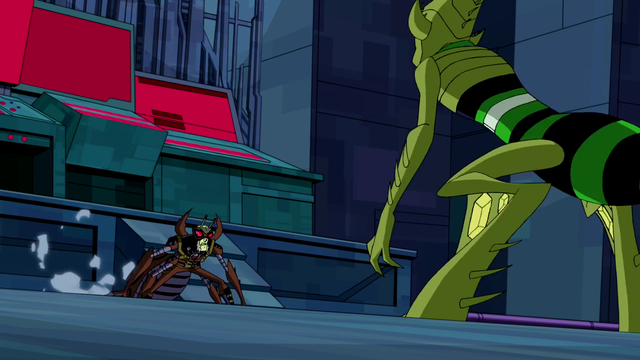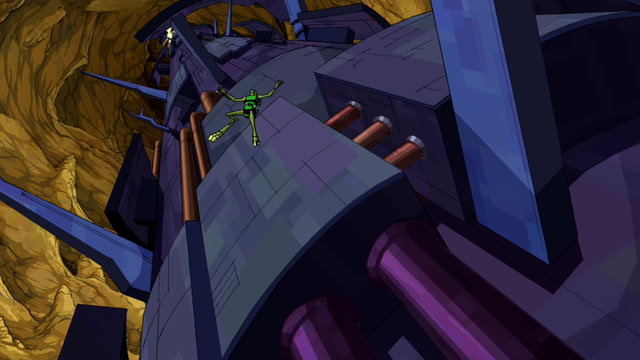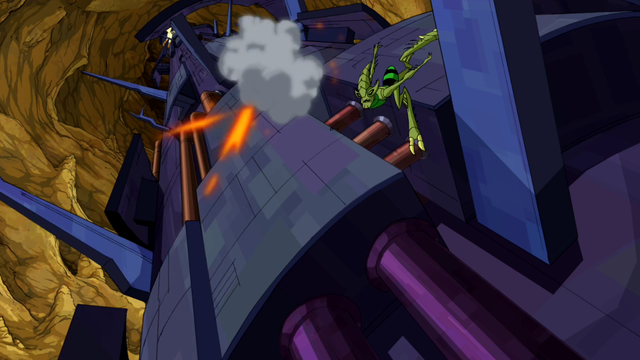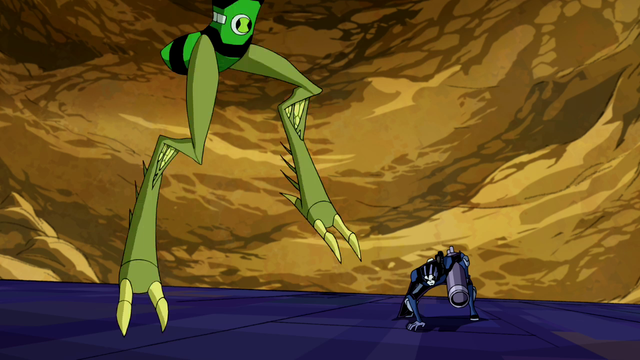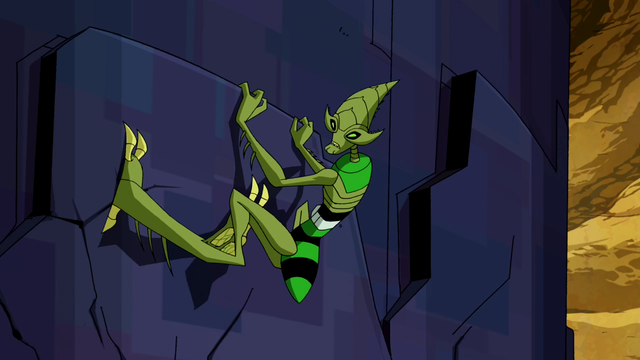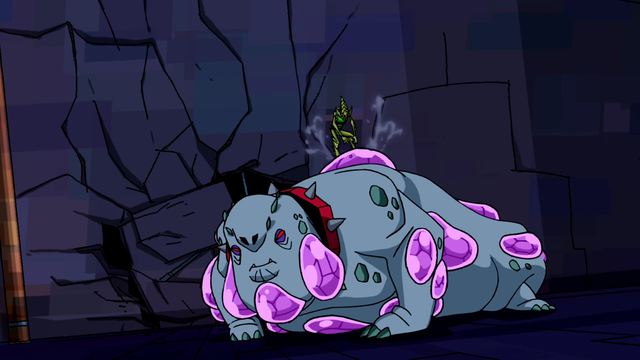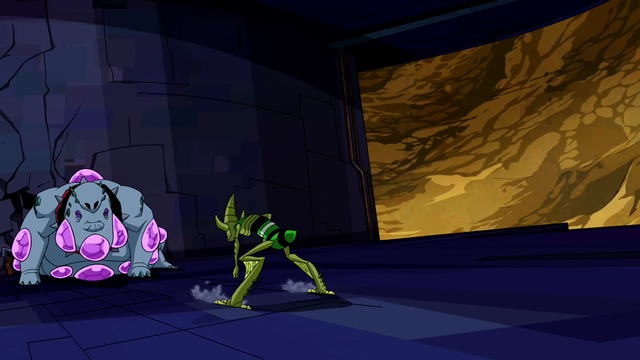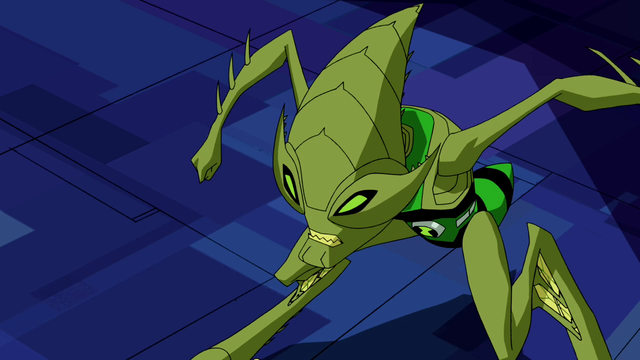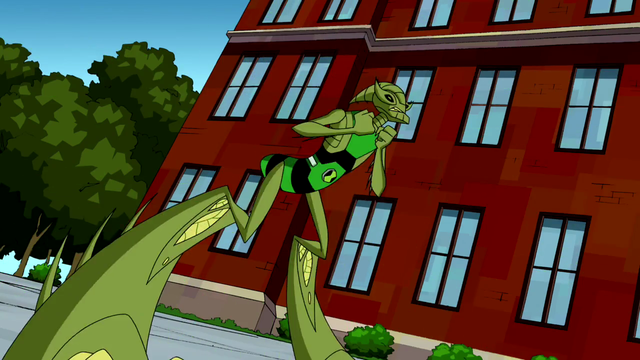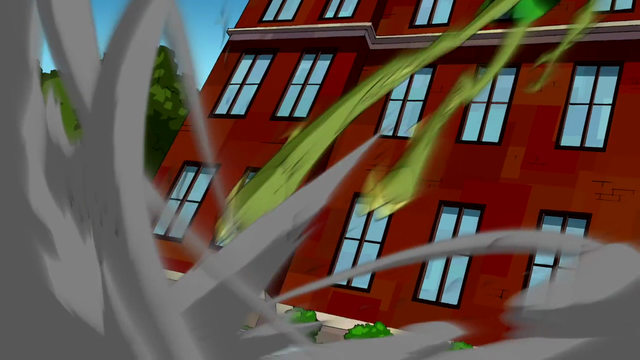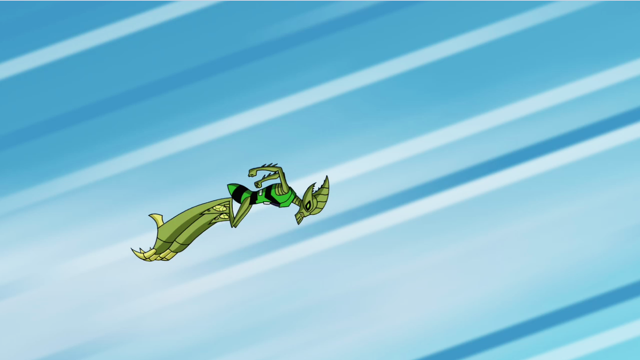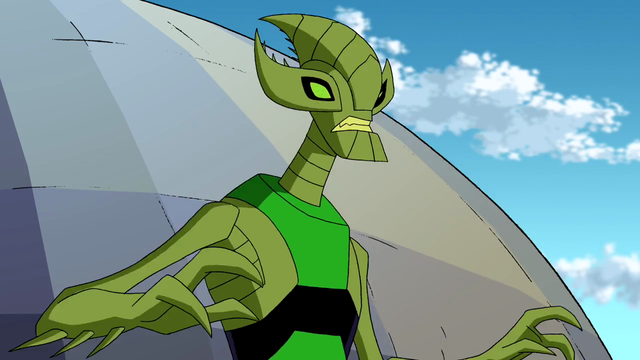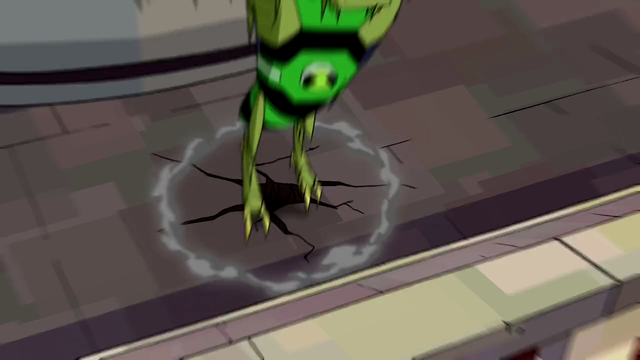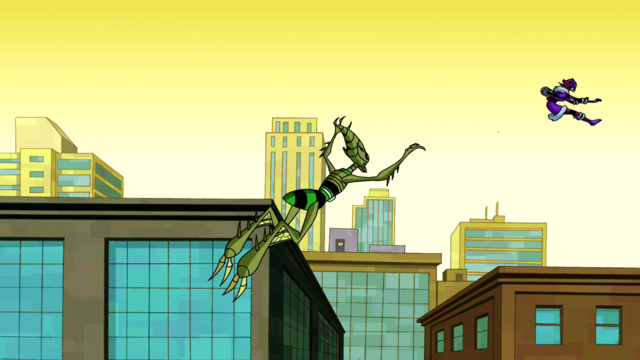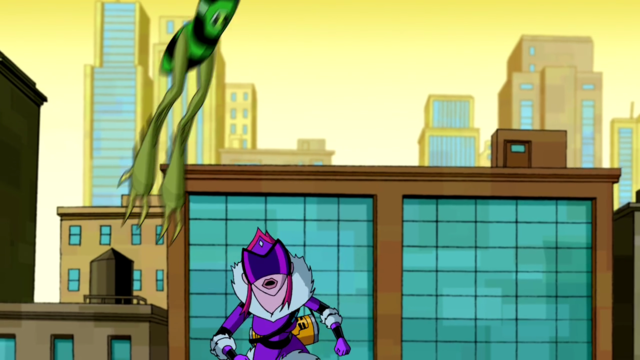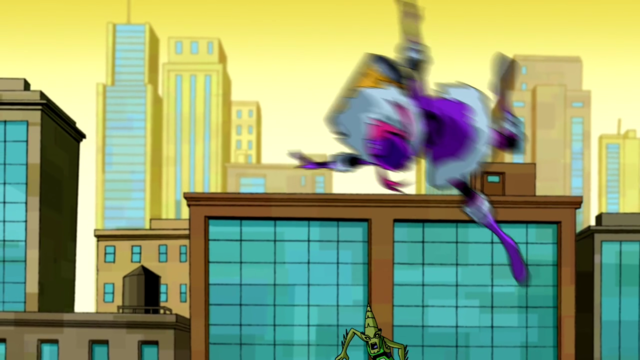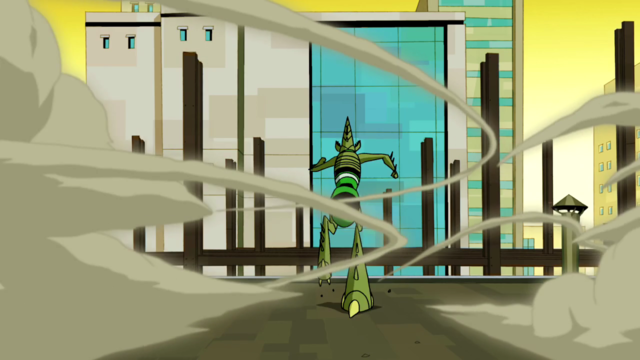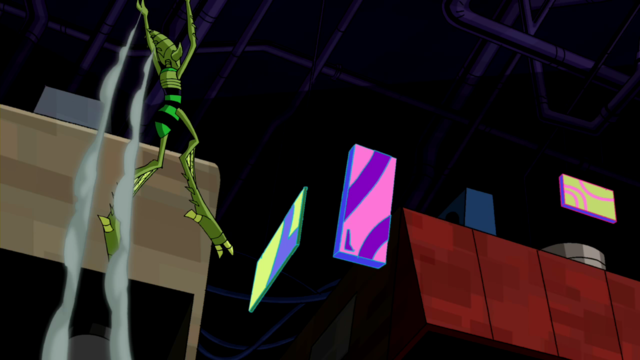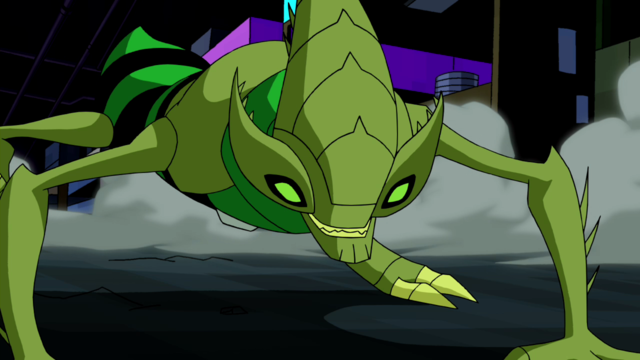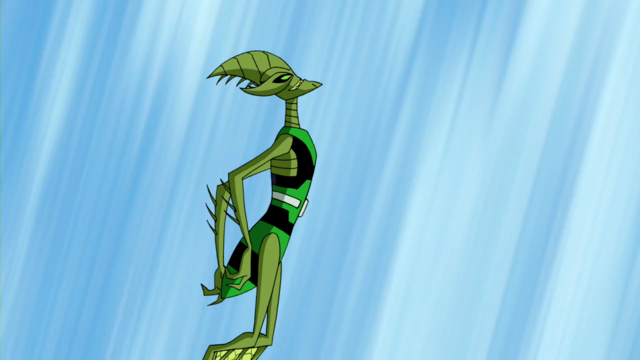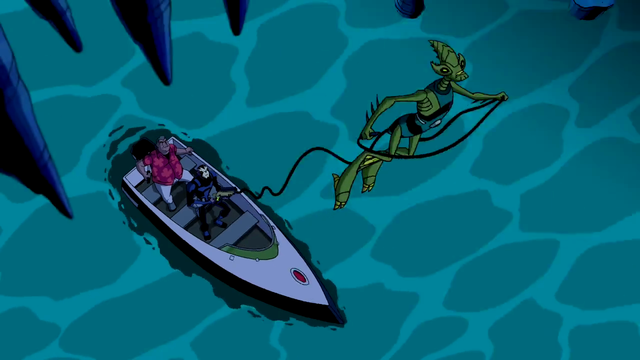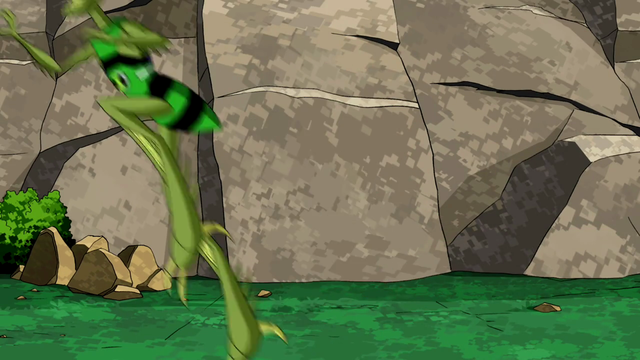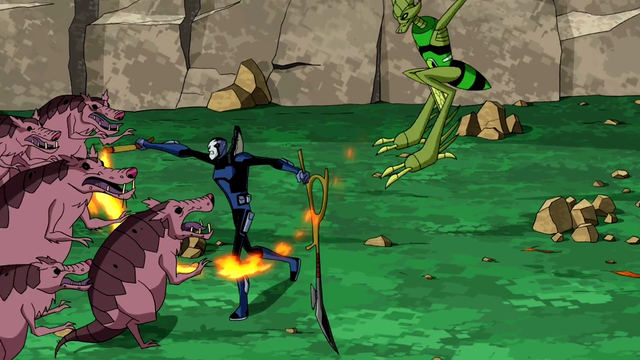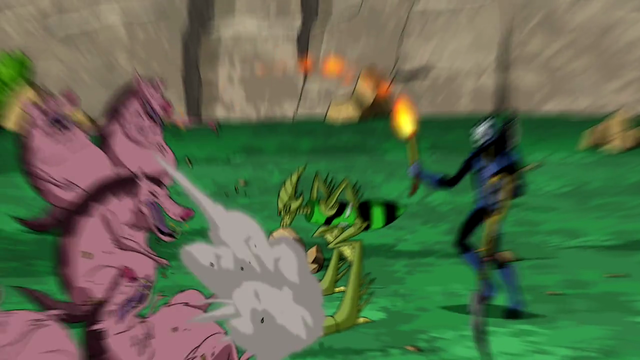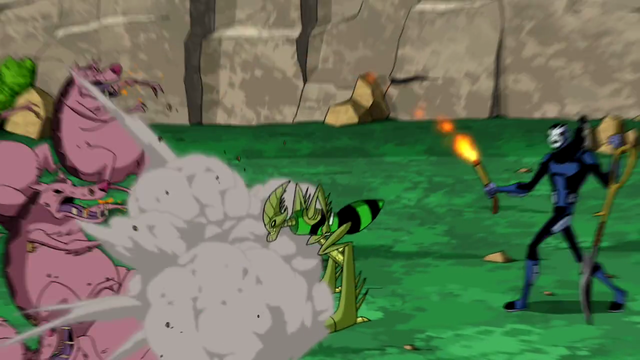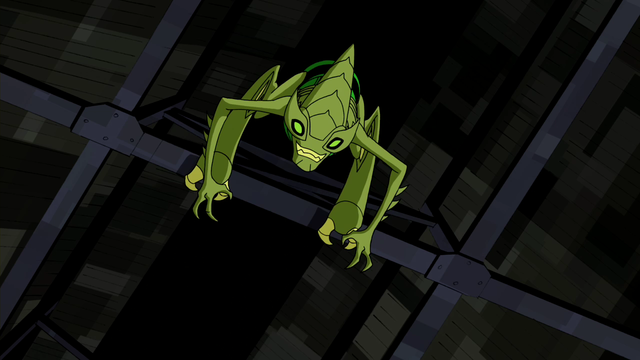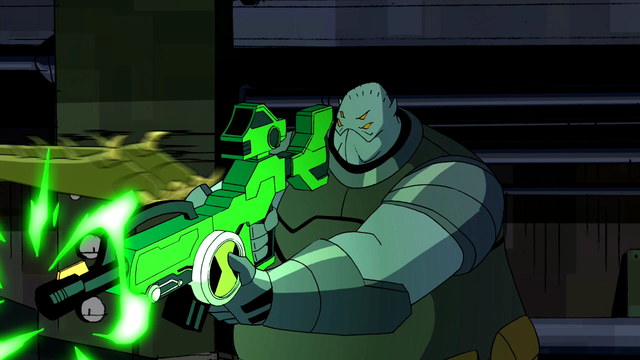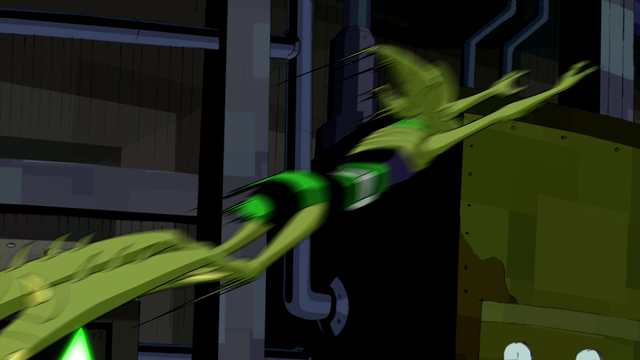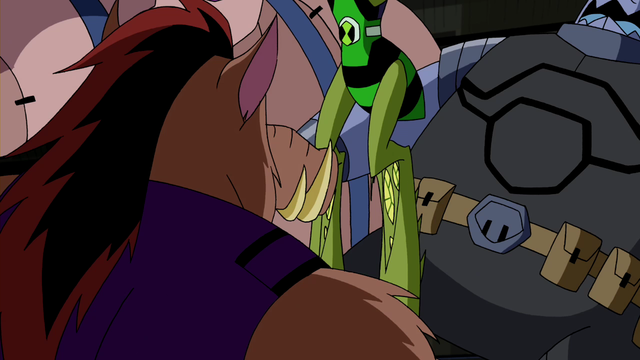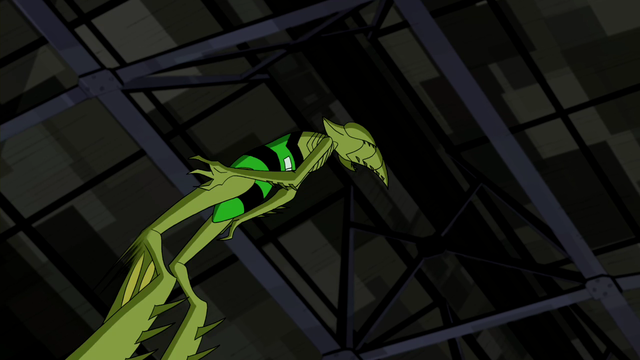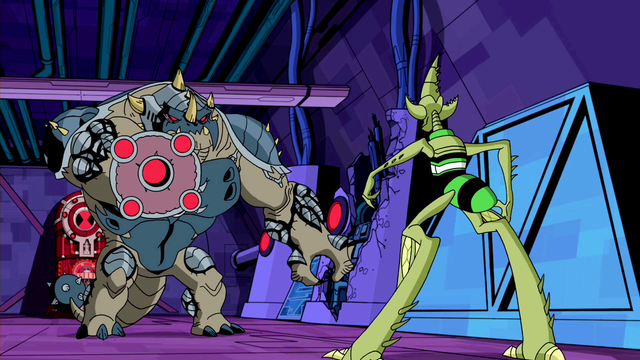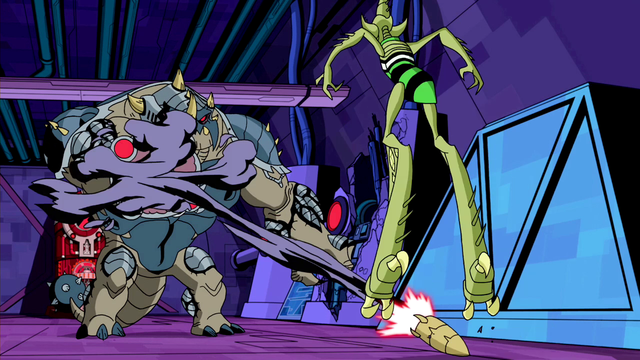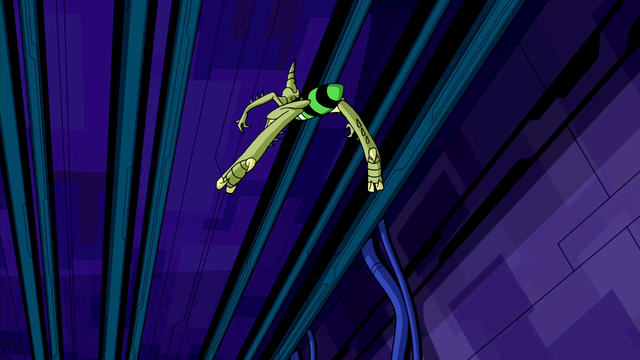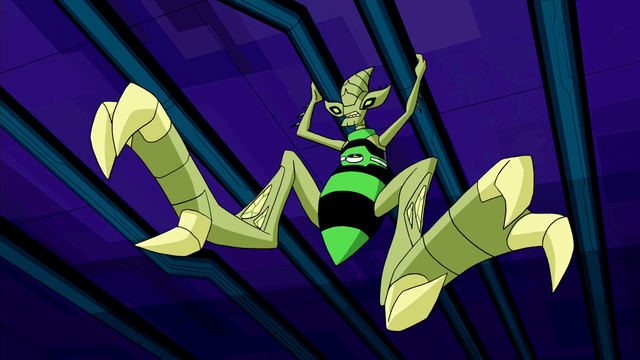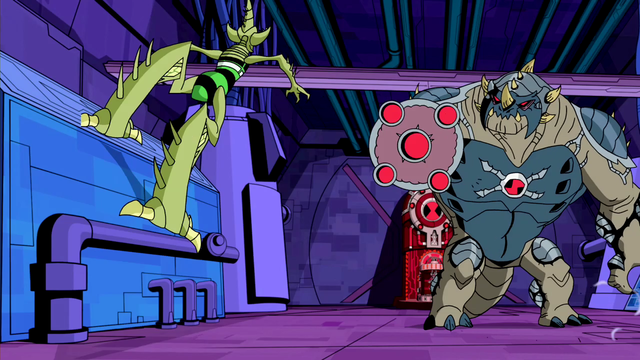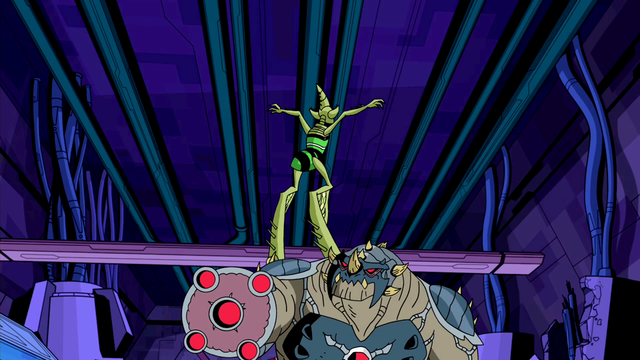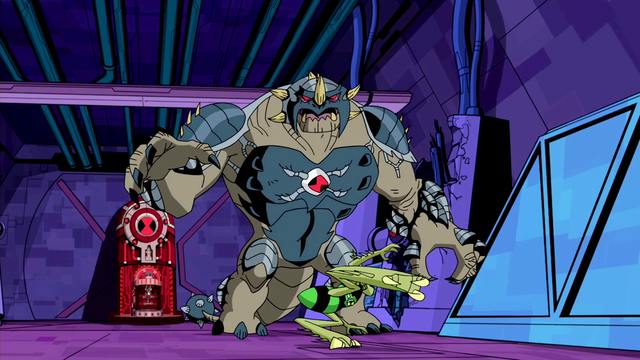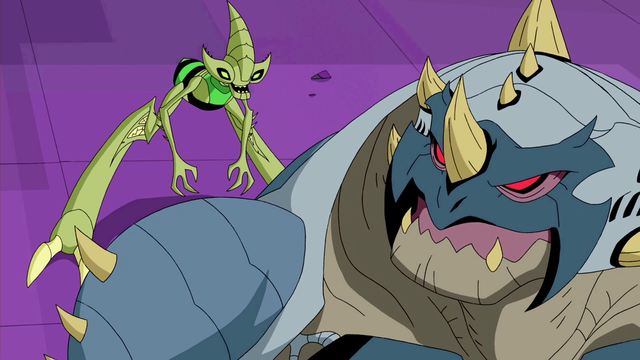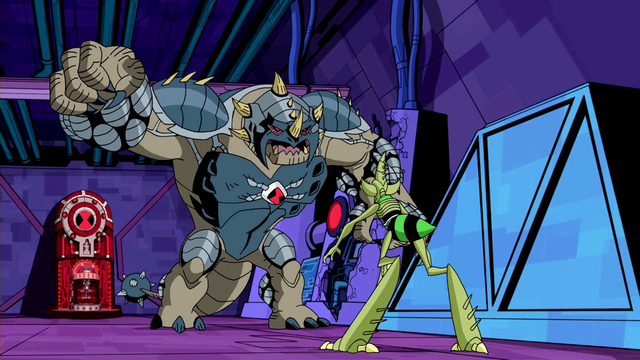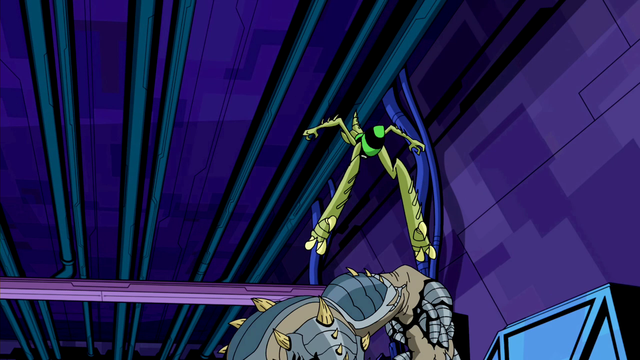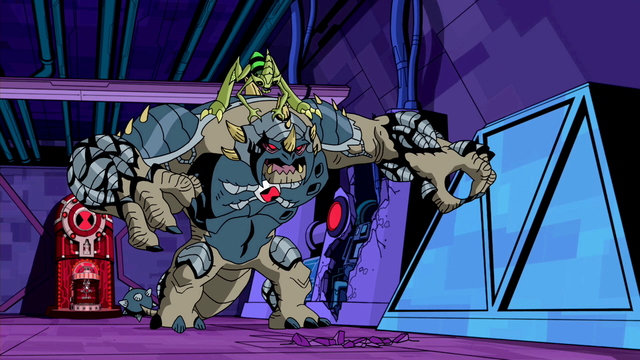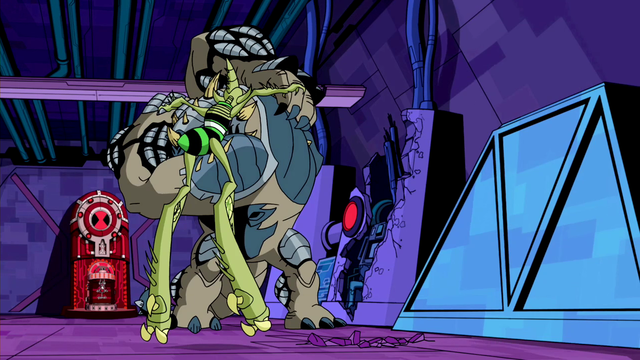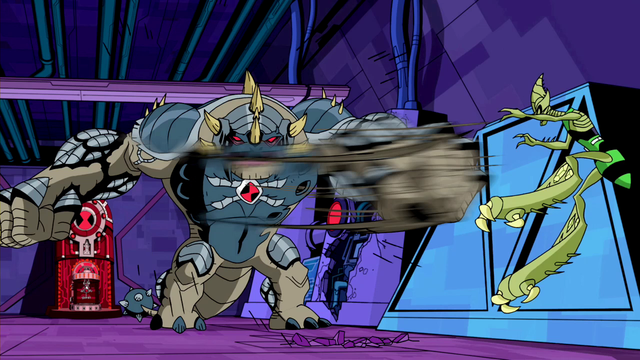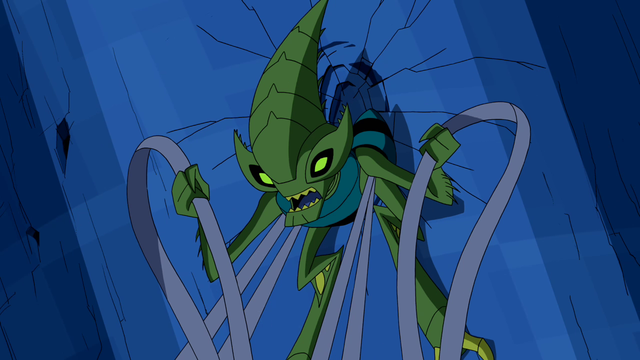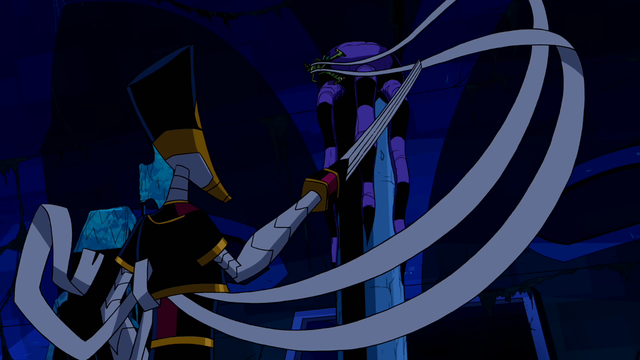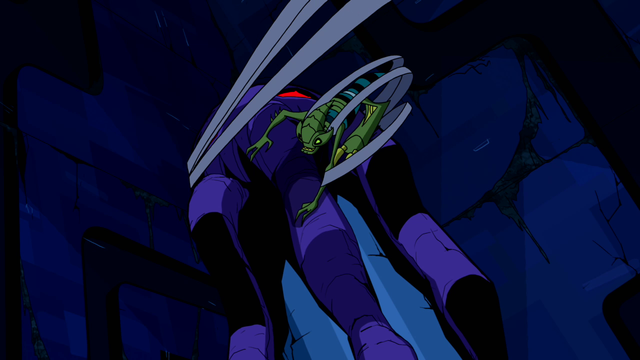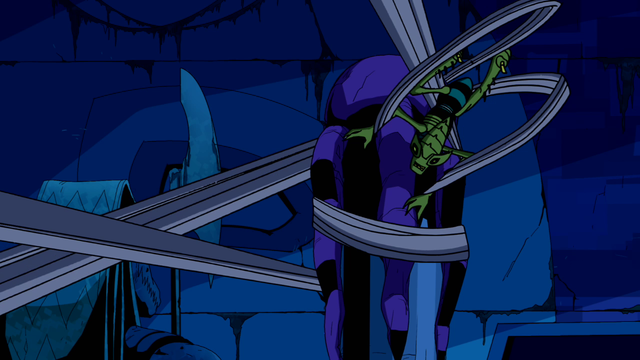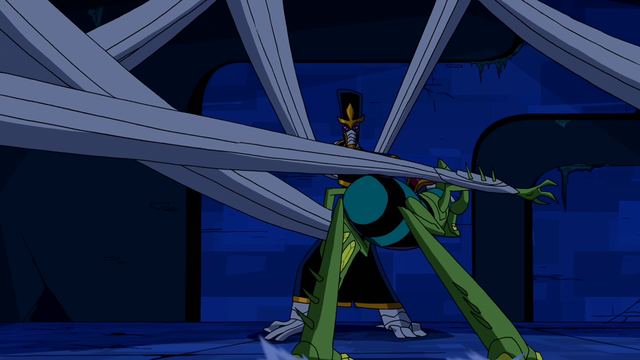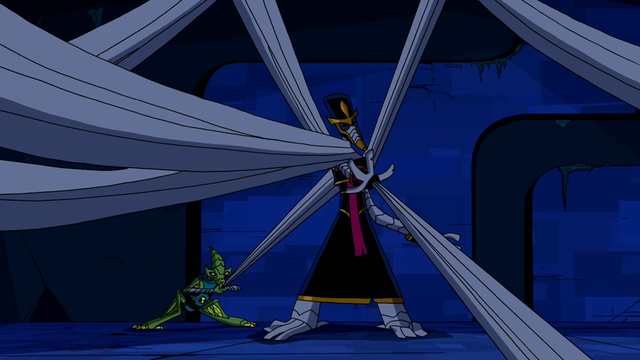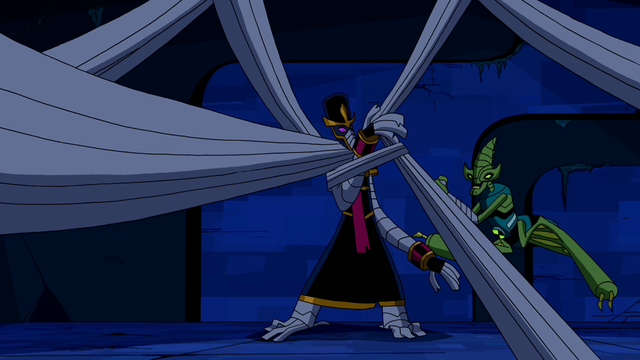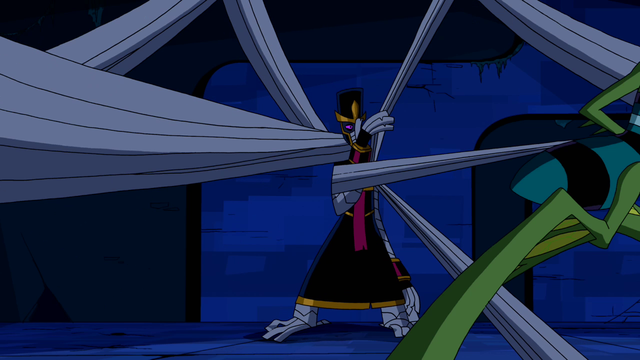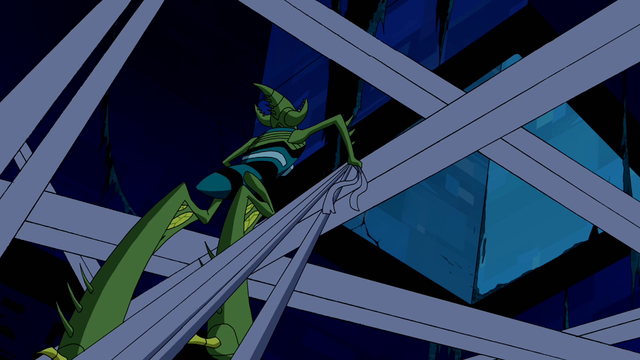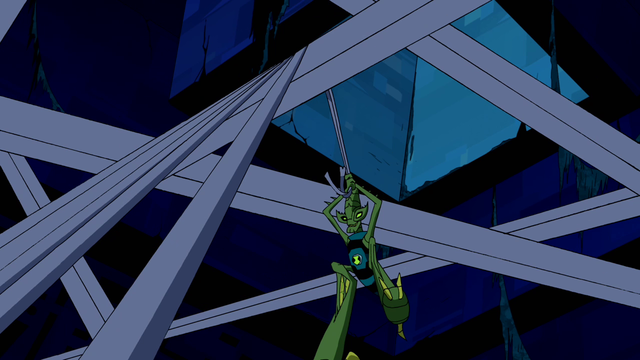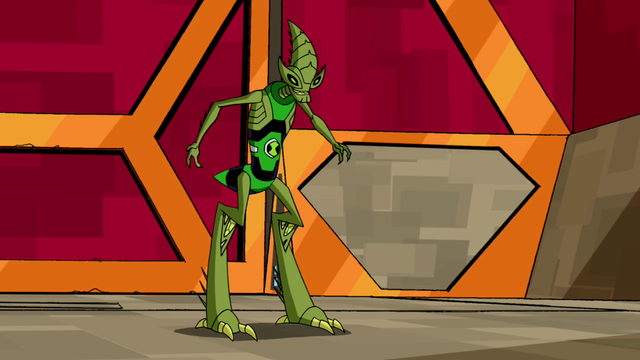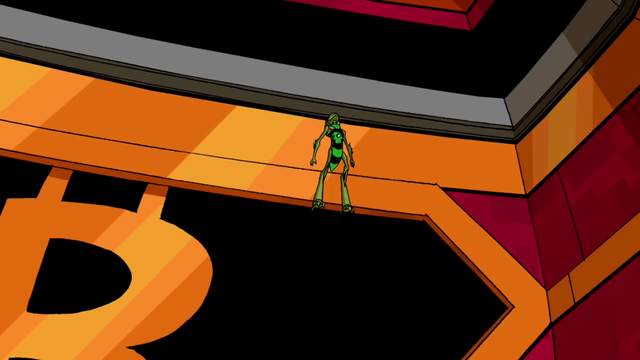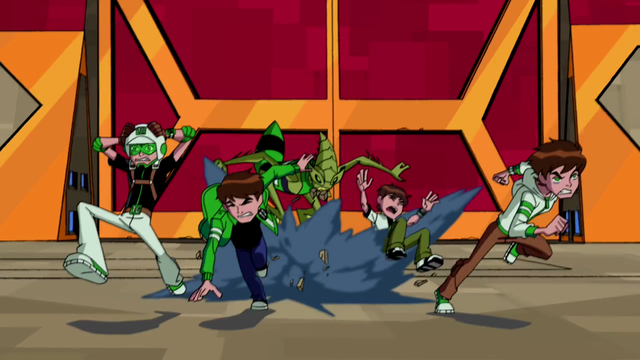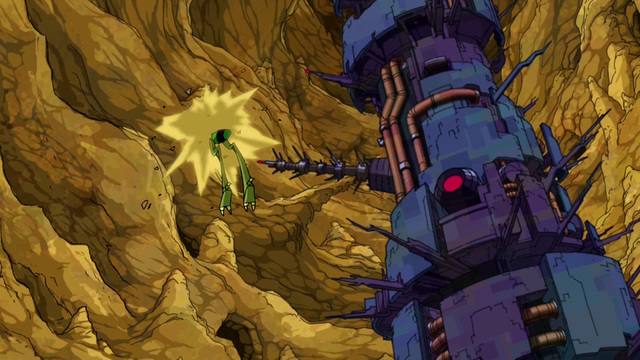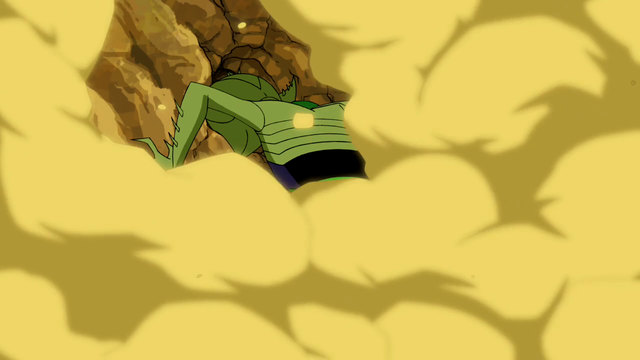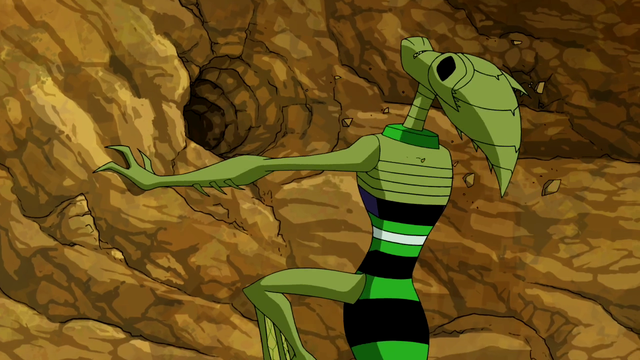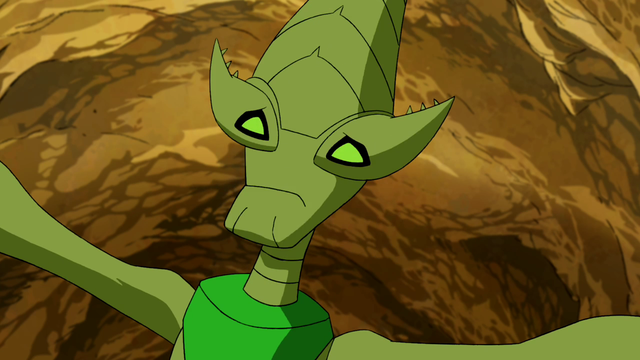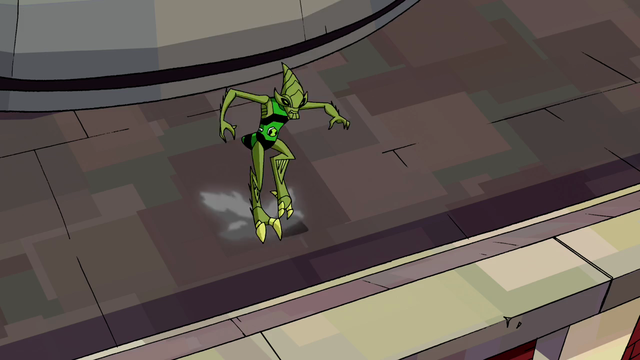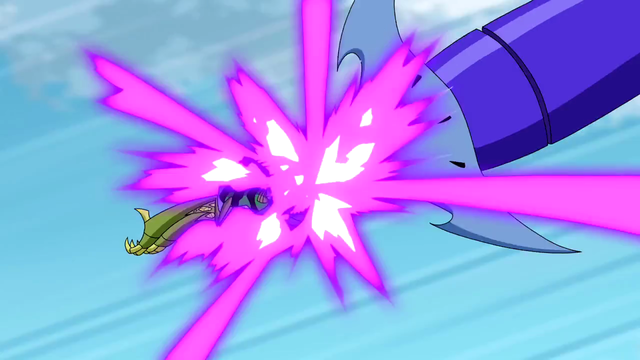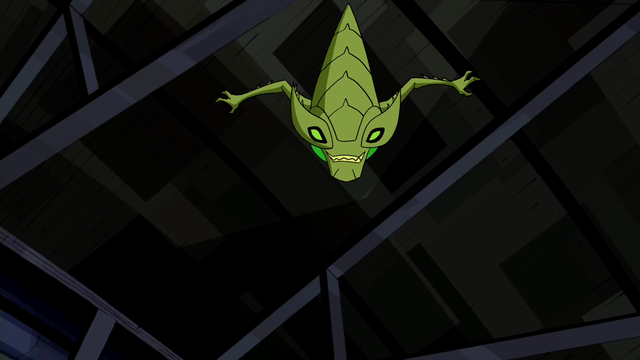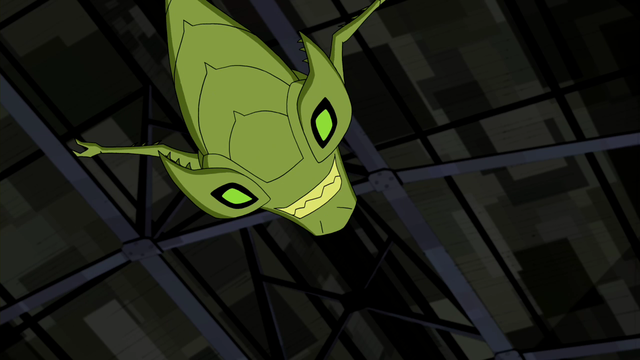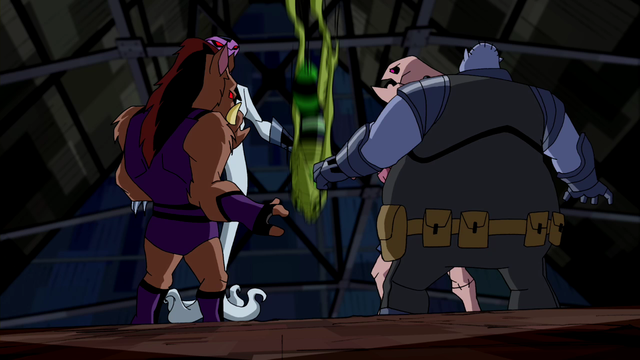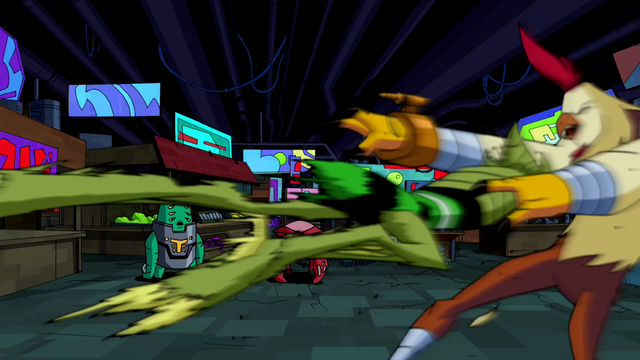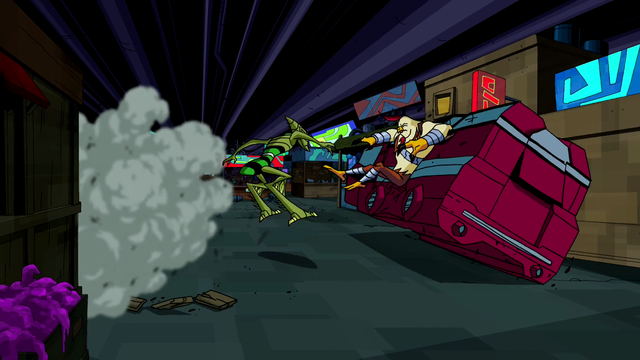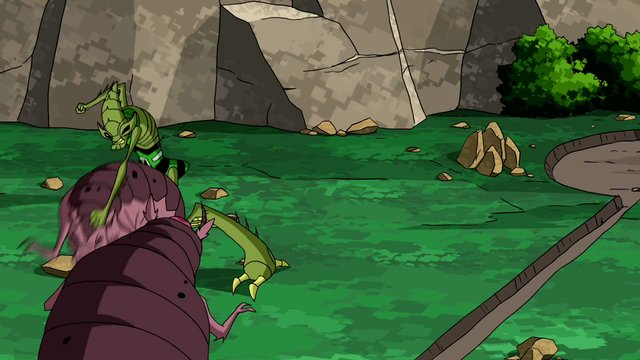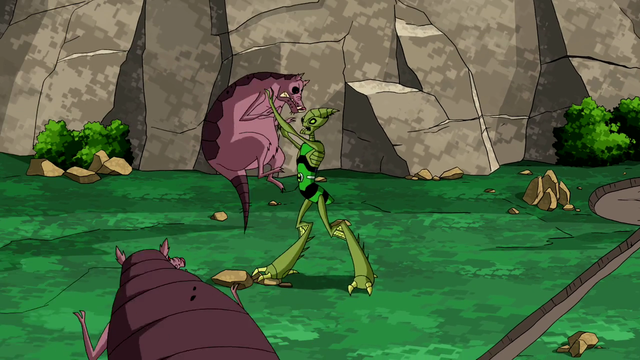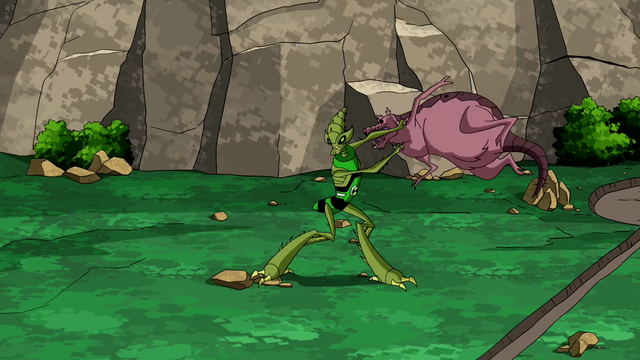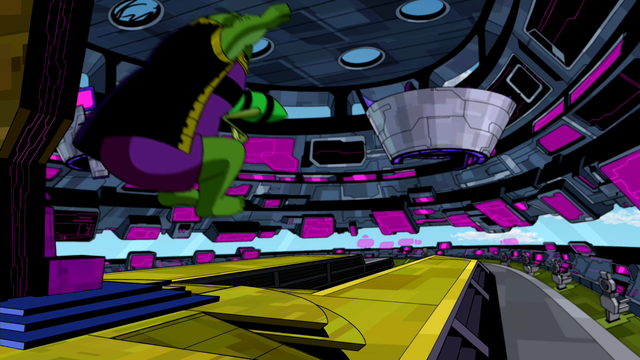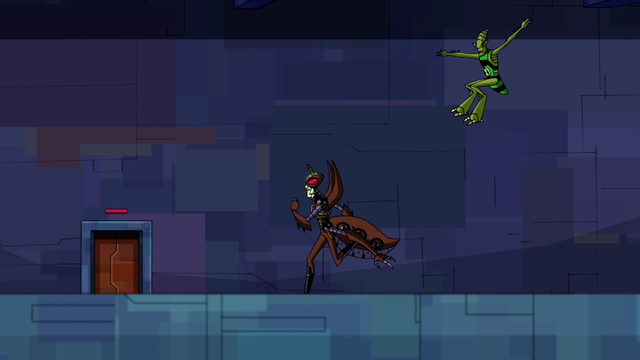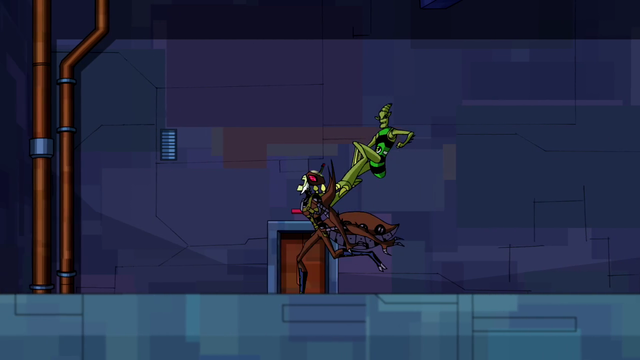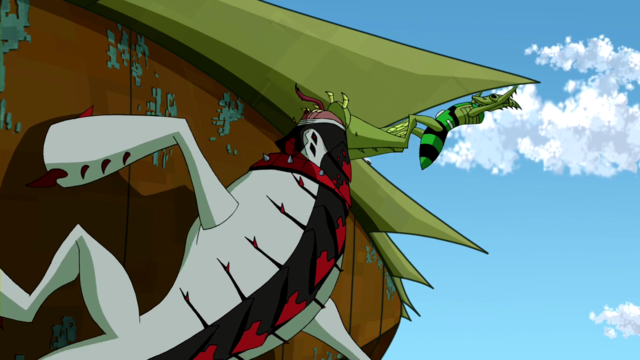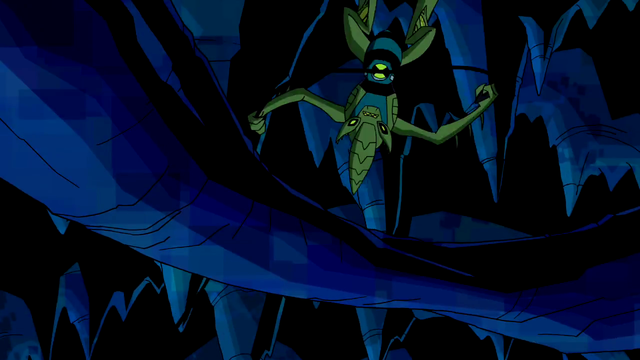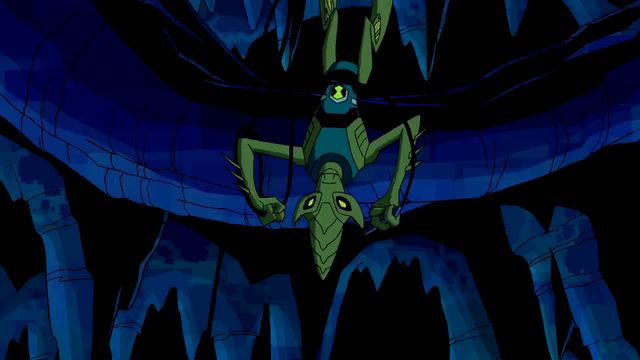 Weaknesses: One of Crashhopper's weaknesses shows that if he gets stuck in the sticky goo sacs of his natural predator Mucilator, he cannot be able to escape which the same as a fly getting stuck in a spider's web or in fly paper. Crashhopper's second weakness is his body becasue it isn't really as shielded as it looks like Ben's other aliens. This is why because in the episode So Long, And Thanks For All The Smoothies, when a missile was about to strike the ground Crashhopper did manage to hit it away but after that he started to stroke his head because it really hurt, and also in the episode Many Happy Returns, he was easily hurt by punches that were thrown at him Princess Looma Red Wind. In the episode Of Predators And Prey: Part 2, it is shown that Crashhopper's third weakness is that he can't jump from very high altitudes as he was unable to jump from Khyber's Ship and falling down to Bellwood because it was too high off the ground. His final weakness shows that if the legs are hit directly Crashhopper will move backward automatically as seen in Weapon XI: part 2. See images below: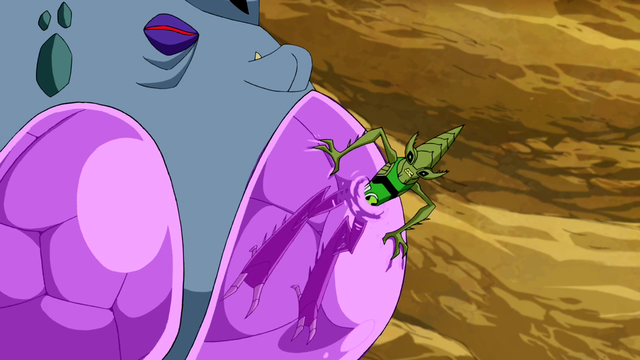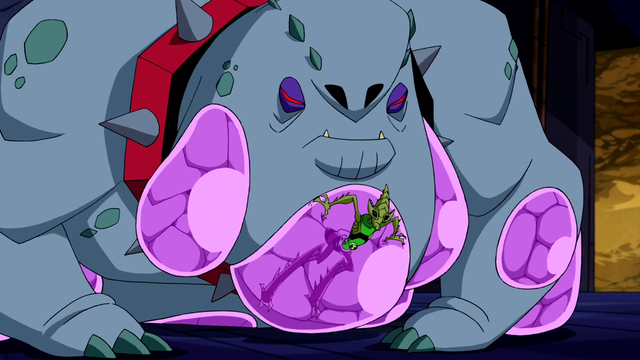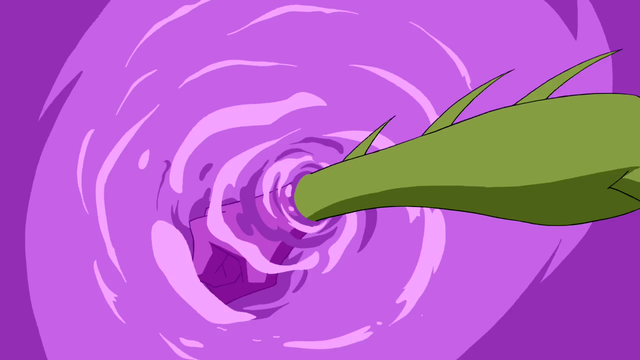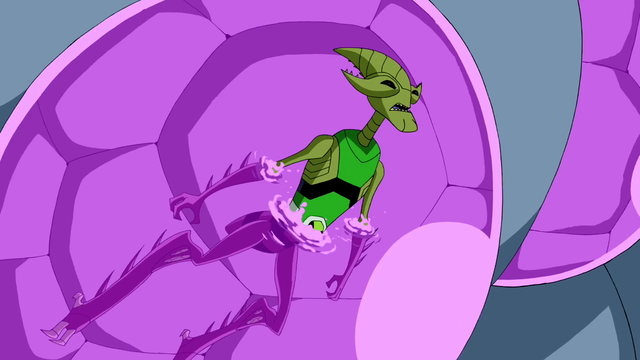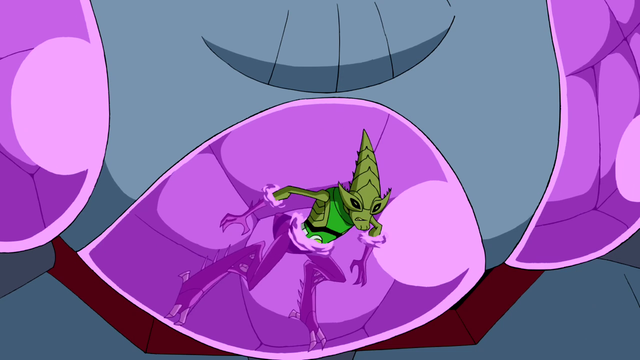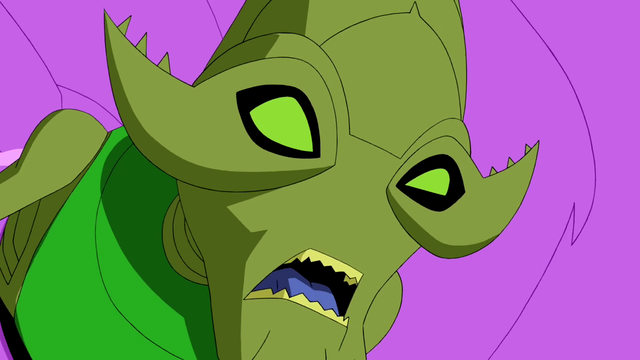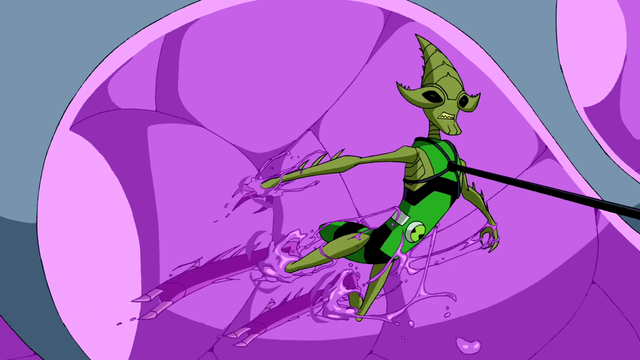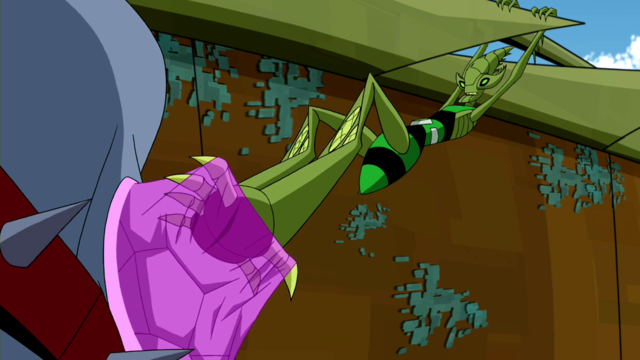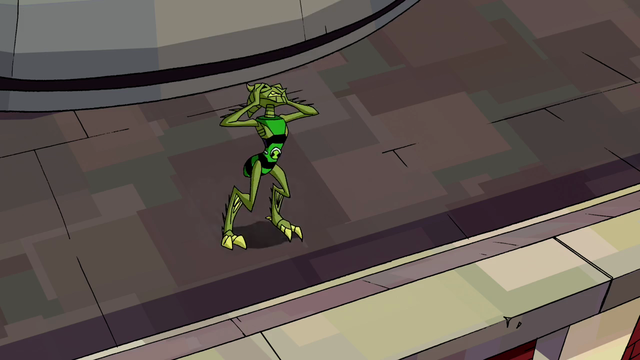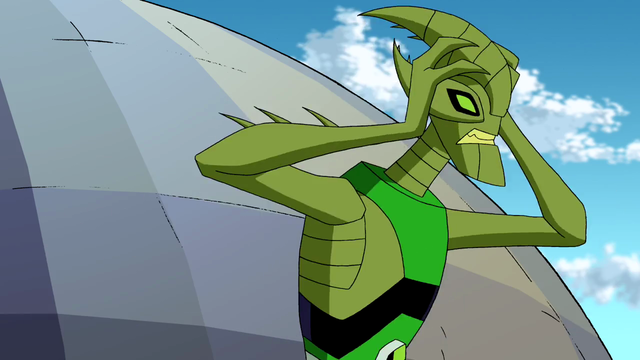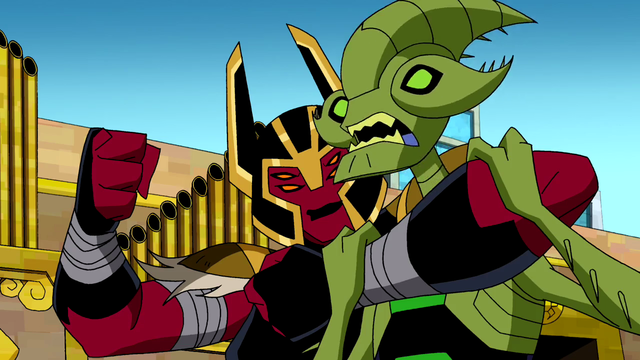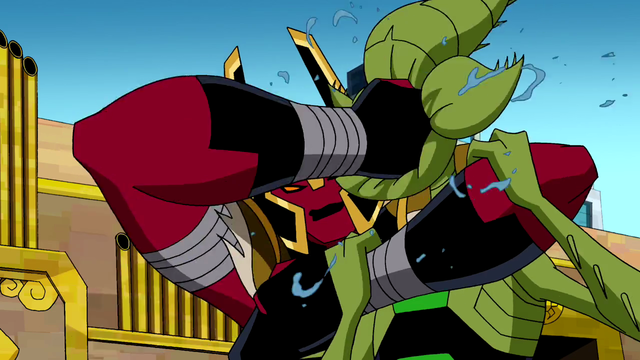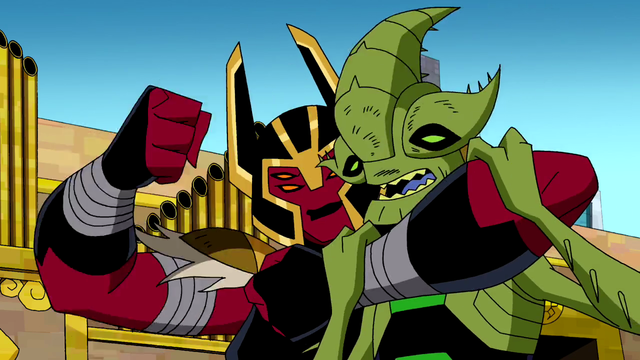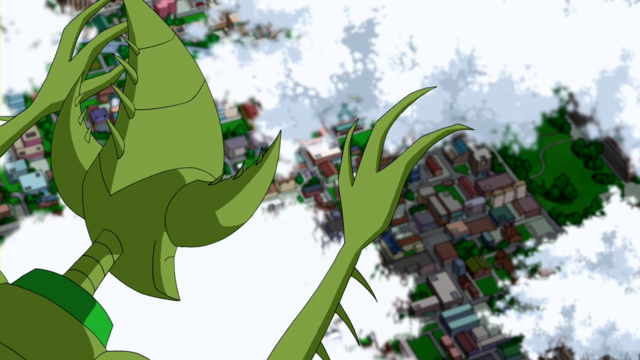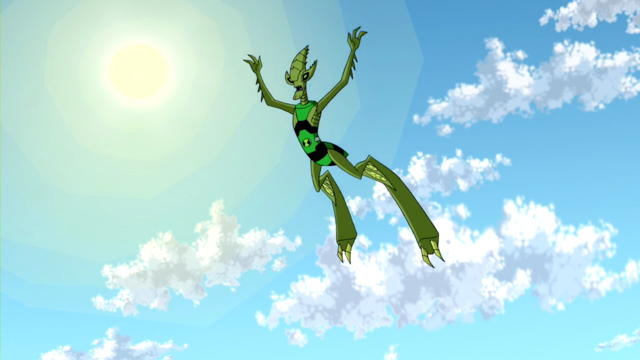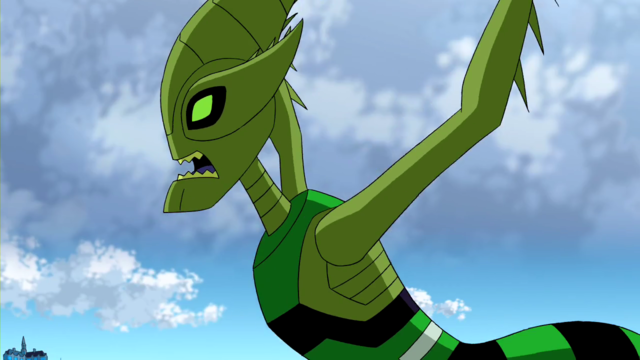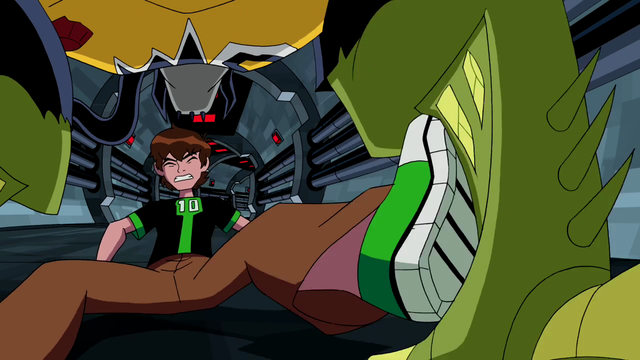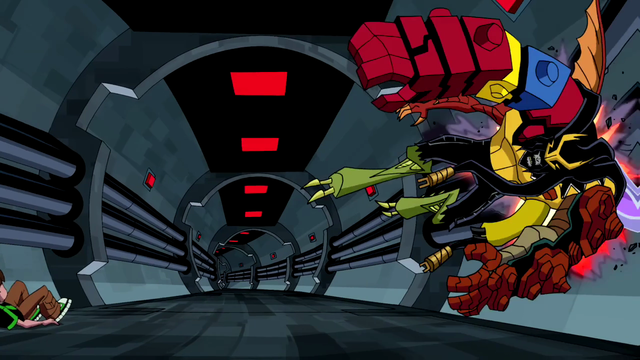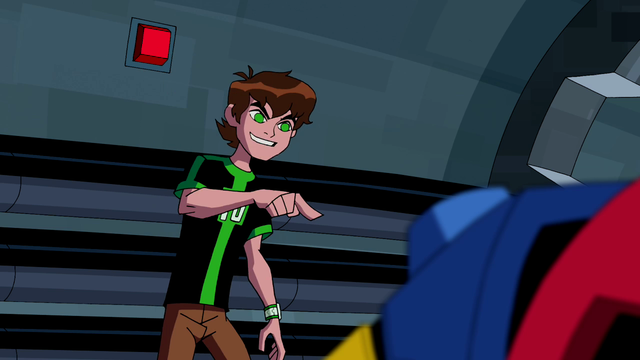 First appearance: It Was Them